New Preview Images of Bloodlust: Lanessa – Blood Crown
As far as previews go, so far we've mainly focused on sex positions we can expect to see on the menu of the next installment of Bloodlust. Of course it's hard not to focus on what positions the girls might end up in. We get excited thinking about them too! 😀 Though part of the fun is watching the sexual tension between the characters grow and not a lot has been revealed about the characters' motives yet, so we'll gradually start including snippets of the scenes that build up to the hot and sweaty action. You might be able to pick up some plot breadcrumbs along the way. 😉
Check out the new preview images below! (Please note these are WIP images so parts of the scene may be changed.)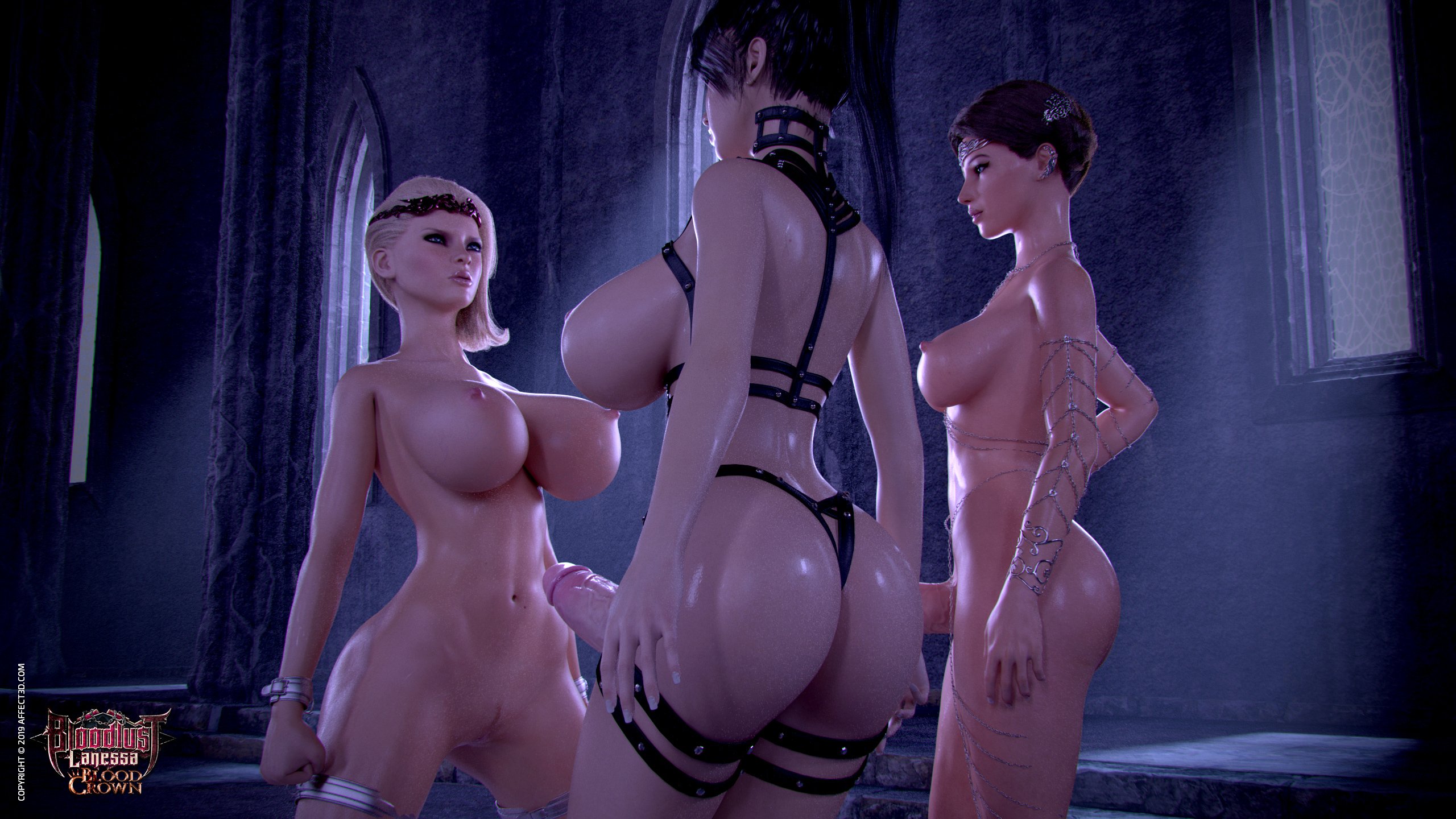 A closer look at the boobjob scene
That being said, we do have another preview clip for you! We're revisiting the boobjob scene, featuring Duchess Sophia after she steps up to plunge her cock into Cerene's cleavage. As with last month's preview clip of the blowjob scene, we'll take a spin around the pose so you can check out different angles of the scene. Keep watching until the end to see a little bit of animation!
Sophia's outfit in Bloodlust: Lanessa – Blood Crown
Last month we dedicated a section of the WIP update to Lanessa's character design. This month we'll give Sophia the limelight to highlight her new body chains and some of the other accessories she will be wearing.
So why did we go with body chains? Well, at the end of Bloodlust: Cerene – Royal Descent, Sophia is naked when Lanessa whisks both her and Cerene away to her lair. Like Cerene, Lanessa has magical abilities, so she didn't necessarily have to return Sophia's dress if she allowed her to change. The fate of Sophia's dress during the events of Bloodlust: Cerene remains a mystery anyway. Cerene might have thrown it out the window when she brought the duchess into her castle or she might secretly harbor a fondness of silky white dresses… We'll never know. Meaning this was the perfect opportunity (cough, excuse, cough) to play with Sophia's look.
Since Sophia will be going through a bit of a sexual transformation in Bloodlust: Lanessa, Miro wanted to give her something pretty to wear that wouldn't get in the way during sex. It had to be something befitting of a princess and it needed to go well with her existing jewellery pieces, so body chains were the first things that came to mind.
Sophia's earrings and hair brooch were sculpted by one of our modelers to compliment the design of her tiara. Her tiara has a very elegant, elvish look so we went for climber earrings with a design that curves up her ears in a similar way the tiara folds around her forehead. Her hair piece was made with a flowy pattern to finish the look.
Circle of Love – Mini Image Set (Preview Images)
Miro completed the Circle of Love set, so Sophia's Valentine Day's get-together with Lanessa and Cerene has officially come to an end. The full mini image set counts a total of 86 images! If dickgirl threesomes put a smile on your face, this one's for you. Check out the last batch of Circle of Love preview images!
Circle of Love – Full Preview
You can snatch up the complete collection of images by joining . The Circle of Love and all miro's other mini image sets are available for patrons who sign up for one of the following memberships:
Founders Tier 1
Regular Tier 1
Founders Tier 2
Regular Tier 2
Sneak peek at the next Mini Image Set!
The next mini image set will borrow characters from the Bloodlust universe, but the story will take place in a modern, futuristic world far away from fantasy kingdoms and magic. We've been itching to try out a different environment, so we're very excited about this new setting!  The scene opens with a blonde girl in a skin-tight body suit cruising through the city on a sleek, fancy ride. She is looking for someone and it turns out to be a blue haired girl dressed in all black. Can you recognize who they are? 😀
For now this set is dubbed 'Cyber Punk' but the official name will be announced when we release part one. The first batch of images is currently on its way. We plan to start posting on miro's Patreon this month!
May 2019 WIP Update & Miro's Patreon
We'll publish the next WIP update on Wednesday, June 12th. Join us over at if you'd like to receive more status updates before then. Depending on which membership you choose, you can receive early viewing access to production status updates, WIP images, mini image sets and more.
There are 5 different membership types to choose from and each membership comes with its own perks.  Check out the details on miro's Patreon page to find out which one suits you best!